$75 /adult. These hikes will be approx. 3-4 hrs of hiking, and 1-2 hrs of transportation time. child/group discount available.
The Great Channels (Moderate Hike. 6 miles total hiking.)
Hike up to the beautiful and very intriguing channels formations via the Brumley Mtn Trail. Get the chance to walk through the maze of tunnels cut out by eroding sandstone and experience an almost cave like ecosystem and climate. Lunch at the old fire tower that stands on top of the mountain. One of the most unique geological sites in the area. Due to popularity, I recommend a weekday (if possible) if you prefer a less crowded trip.
Cabin Creek Falls (Moderate/Hard Hike. 3 miles total hiking.)
A fairly short, but fairly technical hike with some outstanding waterfalls! Two different routes available to the falls, one being a difficulty of 3, the other a difficulty of 4. See several cascading falls along cabin creek within Grayson Highlands State Park, with the highest reaching 30 ft (9m.) This trail also features wild rhododendrons and mountain laurel. Excellent photo opportunities.
Massie Gap to Wise Shelter / Thomas Knob Shelter (Moderate Hike of 4 or 6 total miles.)
Grayson Highlands State Park
Choose either a 4 or 6 mile round trip hike via the Rhododendron gap and AT through Grayson Highlands State Park. Most thru-hikers argue this is one of the best areas of the entire 2189 mile trail. Breathtaking views, wildflowers, wild ponies, and massive rock outcroppings make for many photo opportunities. Lunch at either Wise or Thomas Knob Shelter.
Flatwoods Rd to Flint Mill Gap (Hard Hike. 3 miles total hiking.)
A 1300 ft elevation gain in 1 mile via US Forest Service flint mill trail. Steep gradient, but incredible view of south holston lake and surrounding areas at the top on flint rock! Lunch on flint rock. Suggested for experienced hikers who like a challenge with a great reward at the top.
Beartree Gap/ Iron Mountain (Moderate Hike. 5-6 miles total hiking.)
Enjoy the great scenery around the Beartree Gap area. Choose from a couple different spur trails that connect with Iron Mountain Trail. The IMT used to be the route of the AT up until 1972, when it was re-routed. Excellent photo opportunities around the lake, and even take a very refreshing dip at the beach if you desire.
Buzzard Rock/ Hidden Valley Lake ( Moderate Hike. 4 miles total hiking.)
Start out this hike by viewing beautiful Hidden Valley Lake, walking over the dam and around the lake. Then trek 3 miles out and back to the incredible views from Buzzard Rock via the Brumley Mountain Trail. One of the easier hikes with a very nice view.
High Rocks Trail or Spur Trail (Moderate Hike. 2.5 or 4.5 miles total hiking.)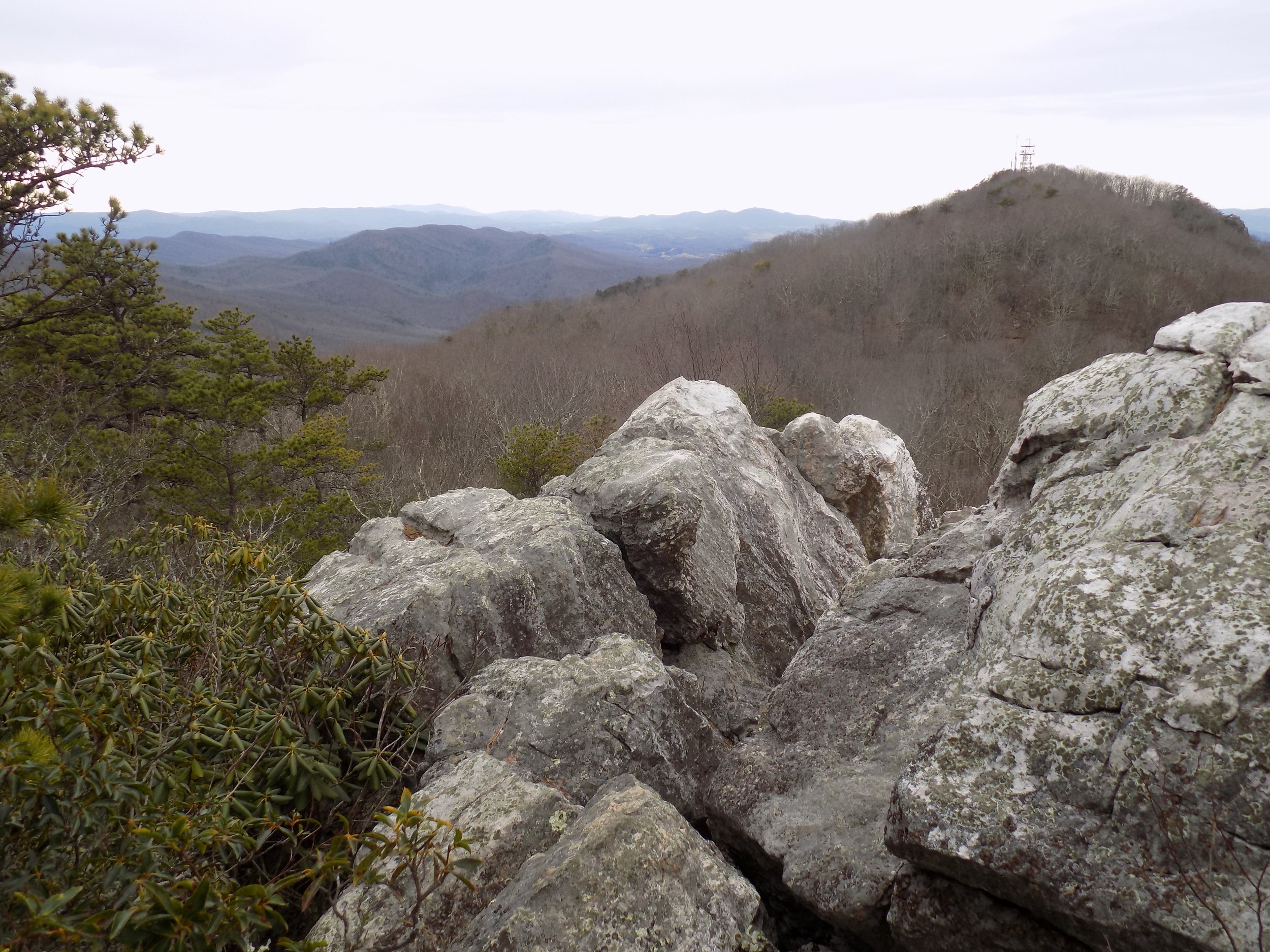 Choose from two relatively short, but somewhat technical hikes out to an incredible view from white rocks overlook. Have lunch or a snack while enjoying the beautiful view from the rocks. The high rocks trail has a difficulty rating of 3 and the spur trail a rating of 4.